EXTRA CREDIT INTERVIEW WITH CLAUDIA WHITE:
Joining LitPick today is Claudia White. Claudia is the author of Aesop's Secret, Key to Kashduneand Servalius Window.
Do you have a solid outline before writing, or do you usually get ideas as you go along?
My stories come together best when I map them out. In school we learned how to develop stories using linear outlines, which I used for Aesop's Secret. After that, I found that using a horizontal story map works better for me. I like to view each story as a journey: the stops along the way are the chapters, and the final destination is the conclusion.
Has someone you know ever appeared as a character in a book (consciously or subconsciously)?
Subconsciously, yes. I didn't realize for a long time that the two main protagonists in my books, Melinda and Felix Hutton, while not identical to, have similarities to me and other members of my family. For my latest project, Amos Argyle also resembles someone I know (but I can't tell you who!).
What do you do when you get writer's block?
There are times when I simply cannot write, times when the story in my head can't make it onto paper.  I never seem to be at a loss for story ideas, but I do get writer's block when I'm distracted by life's other elements. The only way I can overcome it is to step away from my computer and not even try to write. Pushing too hard only frustrates me and does little to unlock the creative process. Relaxation is key, so I let the story play in my mind, like a movie. When I'm driving, I let that movie entertain me; when I walk the dog and even when I go to sleep I focus my daydreams. Eventually my whole concentration is honed in and I am eager to get back to the keyboard and write it all down.
If you could live in a book's world, which would you choose?
I would love to change into an animal from time to time, so I would definitely live in my books. Being an Athenite would be a dream come true! But if my invented worlds are off the table, then I would enjoy the fantastic world created by P. G. Woodhouse in his Wooster and Jeeves stories. Set in England in the 1920s, these stories tell of the fanciful life of the aristocracy during that period. There are no great mysteries or dangerous dramas, just an imagined life of fun and frolic.
What is your favorite book to movie adaptation?
I thoroughly enjoyed The Lord of the Rings. The Elven outpost of Rivendell (also known as Imladris) was perfect—maybe that's where I would want to live (as long as elf magic keeps the Orcs out!).
If you could have lunch with one other author (dead or alive!), who would it be?
It's difficult to choose only one. P. G. Woodhouse would be fascinating, and if the wit in his writing is any indication, he'd probably be good for a laugh.  Alexander McCall Smith (author ofThe No. 1 Ladies' Detective Agency series) would be hysterical!  Joanne Harris would be fabulous to spend time with; I love the hint of fantasy in her books (she's most famous forChocolat) and she enjoys cooking, as do I. If it's OK, can we have a table for four?
Wild Card Question: As a child, you spent long family car trips unleashing your imagination and creating stories. Did you write down any of those stories or still remember them today?
I didn't write them down, but I do remember them. I have always been crazy about animals, so they were featured in every story. On my family's travels, horses were usually key characters. I envied the power and movement of these wonderful creatures, so I would create stories that would allow them the freedom to run across plains without fences to block their path. Of course, I was often the horse in these imaginings!
Thank you for joining us for an Extra Credit interview, Claudia! Can we get a larger table and join you and your author guests at lunch?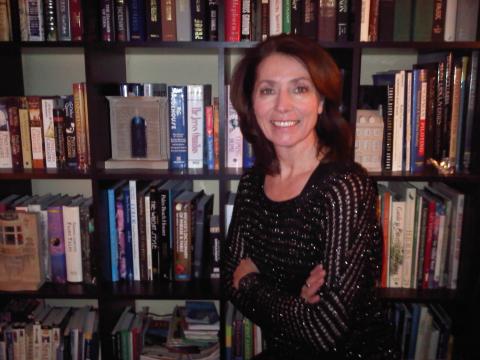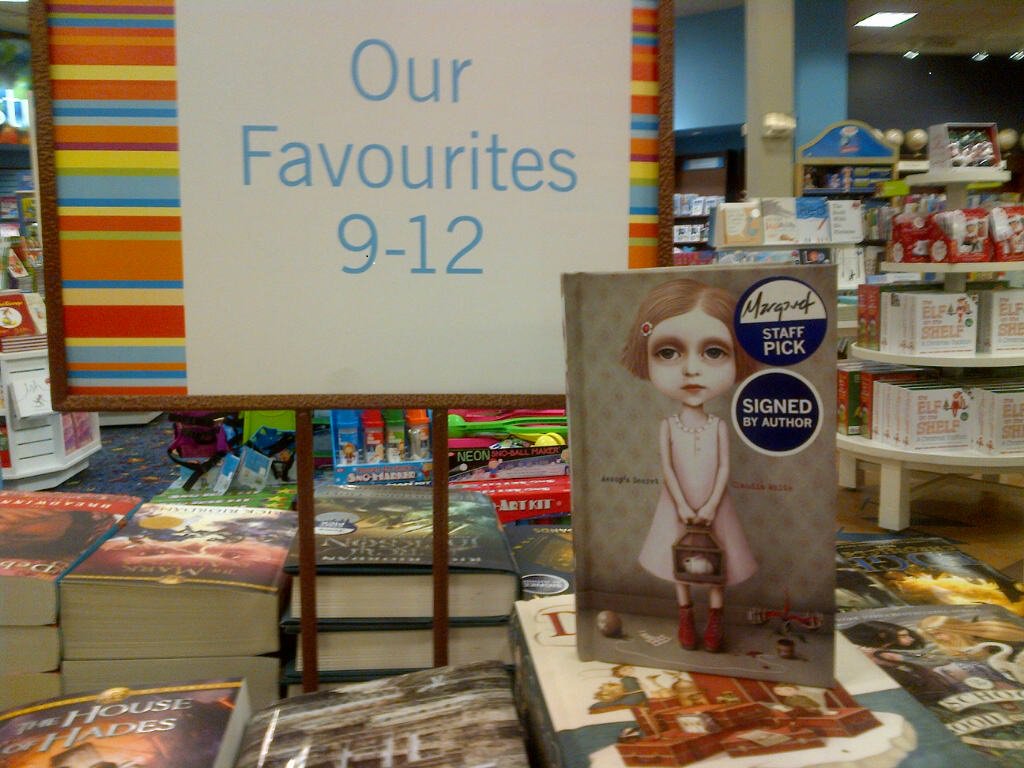 *   *   *   *   *
FOR IMMEDIATE RELEASE 
Date: 01/28/2015
Bestselling Canadian-based children's author to launch her brand new book
MP Publishing is pleased to announce the launch of Claudia White's brilliant follow up to the acclaimed children's books Aesop's Secret and Key to Kashdune. Featuring the Hutton family, they are absorbing children's adventures exploring the truths hidden behind ancient myths and legends, challenging our understanding of reality.
Author Claudia White—a recognised expert in daydreaming—will have her third title, Servalius Window (ISBN 9781849822329), released Tuesday 24 March 2015 and will be available to order, alongside her previous titles, through Ingram Content Distribution from that date. These beautifully presented printed hard-case novels are aimed at middle school readers and will appeal to kids and adults alike.
'All of us at MP Publishing are really behind Claudia and her book—they've already received some brilliant reviews and with Key to Kashdune being put forward for The Canadian Children's Book Centre's 'Monica Hughes' Award, we are positive that her books will be the ones to watch!' —Mark Pearce, CEO Managing Director of MP Publishing.
Servalius Window—written in three parts—is a story of destiny, change, knowledge and time, combining the ancient story of Gilgamesh and Chinese Proverbs to tell the story of two worlds inextricably linked: Servalius and Earth. This original tale allows us to revisit the much loved brother and sister duo, Melinda and Felix Hutton, whilst introducing new characters in a book that is both part of this wonderful series and stands alone.
White, who wrote her three books whilst living in Oxfordshire, England and Oakville, Ontario, has written professionally for more than twenty years. She employs a captivating narrative with a cleverly changing view point in order to fully develop the characters and highlight the importance of unity and acceptance within a family, even if they belong to the stuff legends are made of.
*  *  *  *  *
Exciting news!  Key to Kashdune has been nominated for the Monica Hughes Award for Science Fiction and Fantasy.
http://www.bookcentre.ca/awards/monica_hughes_award_science_fiction_and_fantasy
I have been invited by author M. L. LeGette on a "Work In Progress" (WIP) blog tour.  My WIP is posted on my new blog

*   *   *   *   *
More lovely Goodreads reviews for Key to Kashdune

Sep 07, 2014 posted by Lynne
What started out as a great story in Asop's Secret, the first book in this series, continues smoothly with even more enchanting charm in book two, Key to Kashdune.
This has been such a really cute story! I'd easily recommend to fantasy loving readers, pre-teen, teenage and up.
Aug 24, 2014 posted by Cathy
Just like the first book it was just an enjoyable read. Fun, thoughtful, i couldn't put it down. So happy it lived up to my expectations! Looking forward to the next one!
*   *   *   *   *
Two new reviews for Key to Kashdune

"Final Verdict: Key to Kashdune- One of the most enjoyable reads of the year! Great writing and storytelling make this a must read."  Key to Kashdune earns five stars.
http://hauntedorchid.blogspot.ca/2014/06/all-about-middle-grade-review-key-to.html
"This is a great entertaining read which has a hidden melody to lift you into the fantasy cloud for the duration of the story. A heartwarming, funny and charming family quest that will take you on a journey that you won't want to end. When it finally does, you'll definitely want to read the next installment very soon. This is Mr Ripley's Younger Read recommendation for all children but especially girls."
http://www.mrripleysenchantedbooks.com/2014/07/mr-ripleys-book-review-key-to-kashdune.html
*   *   *   *
I was delighted to be able to be a guest poster on A Woman's Wisdom.  You can read it here: http://awomanswisdom.wordpress.com/2014/06/02/guest-blog-recognising-the-child-in-the-mirror-by-author-claudia-white/#comments
*   *   *   *
Key to Kashdune coming spring 2014

*  *  *
*  *  *
See you Saturday, April 26, 2014 at Chapters Rideau, Ottawa Ontario where I will be signing copies of Aesop's Secret from 1:00 to 4:00!
*  *  *
Book Giveaway For Aesop's Secret
In preparation for the release of 
Key to Kashdune 
MP Publishing is offering five lucky people the opportunity to win a copy of Aesop's Secret.
Everyo
…more
*   *   *
"Aesop's Secret was a book I reviewed at the beginning of the year so I was thrilled to get my hands on a copy of the follow up –  Key To Kashdune."
*
"Claudia White has written another fabulous story any little girl would enjoy, imaginative and entertaining. "
A Woman's Wisdom Reviews
*   *   *
It was wonderful to be interviewed for this great blog:  Writing and Wellness
*   *   *
Guest Post on Mr. Ripley's Enchanted Books
Felix and Melinda Hutton are the main characters in my middle grade fantasy novels and have been with me for a very long time.  Not in their final form which can be found on the pages of Aesop's Secret and Key to Kashdune but in their concept.  The idea of people who can take the shape of other creatures has held my fascination since childhood.

For years I had dreamed about writing down my imagined worlds to share with young readers but instead of getting down to work to accomplish that, I used my magical thinking and told everyone that I wanted to write a book.  Sadly, just because I said it did not make it so.  Then something changed and I must credit the (now late) great actor Sir Nigel Hawthorn for the words he shared giving me the push I needed.

For the rest of the post go to

: 

http://www.mrripleysenchantedbooks.com/2014/03/guest-post-claudia-white-aesops-secret.html

*   *   *
A wonderful Tweet!
@djkirkby @white_ca reading Aesop's secret AGAIN!!!! 🙂 pic.twitter.com/bbVbNsTXxZ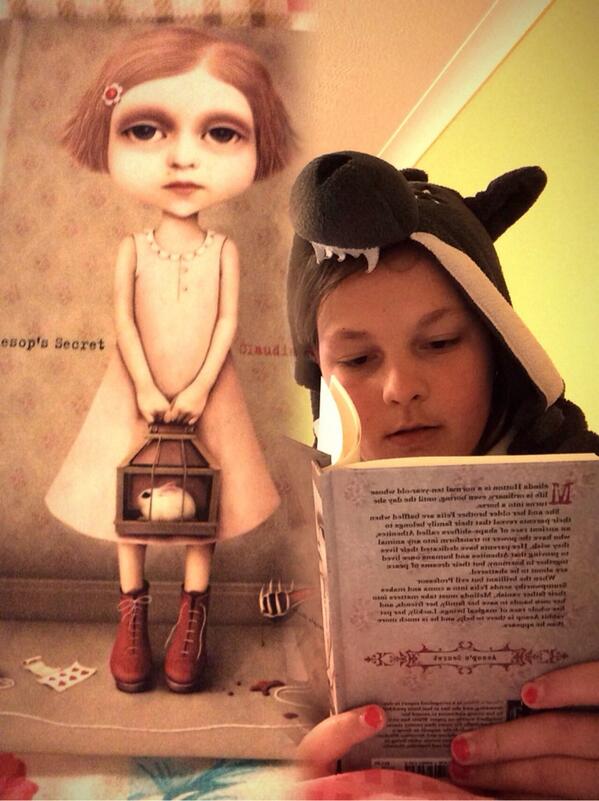 I had a wonderful visit this week with the year 5s and 6s at St. Laurence School in Warborough England.  It truly is a "Smiling School"!
KEY TO KASHDUNE




Now available in ebook!




http://mppublishingusa.com/ebooks/key-kashdune
 *   *   *
Signings in Ontario, Canada March through June.  
Check the Events pages for details!
*   *   *
A great review for Aesop's Secret from A Woman's Wisdom
"Claudia White has written an appealing and intelligent story which even this forty something woman found endearing to read. I shall be keeping this one to hand for when my granddaughter is a little older."
"Fabulous!"
http://awomanswisdom.wordpress.com/2014/02/10/aesops-secret-by-claudia-white/
*    *    *
I am beginning to book events for 2014.  Check the Events page for updates!
*    *    *
Literacy Love Review
Bottom Line…
"Middle Grade readers will be intrigued by the cover of Aesop's Secrets, and hooked by its storyline. A mix of magic, a little science, and great cast of characters makes this a nice little book. I could see it be used as a successful read aloud too!"
http://literacylove.com/2013/12/29/book-review-aesops-secret-by-claudia-white/

Author Alliance's Dee Kirby reviews AESOP'S SECRET by Claudia White
*     *    *
5 out of 5 Pineapples! 
Wonderful review from The Haunting of Orchid:
"The writing really pulls you in from the very first page as Ms. White dives right into the world Hutton's and the revelation that  is about to be revealed to the two protagonists. While the book itself is short on pages, the author does an excellent job of making use of each page. While I enjoyed the mystery and twists within Aesop's Secret, I am going to leave y'all in the dark so you can discover what will befall the Hutton kids in what is now one of my favorite middle grade books this year." –
See more at: http://hauntedorchid.blogspot.ca/2013/10/all-about-middle-grade-reviews-aesops.html?
*   *   *   *   *   *
 Demand exceeded supply and we've had to reschedule a few events while waiting for books to be available.  Please check the events page for updates in scheduling.  
*    *    *    *    *
I had the privilege of being interviewed for the wonderful


The Haunting of Orchid Forsythia
All About Middle Grade Interview: Claudia White (author of Aesop's Secret)
– See more at: http://hauntedorchid.blogspot.ca/2013/08/all-about-middle-grade-interview.html#sthash.uLpj4LI7.dpuf
*   *   *   *   *   *
Thank you to Dominik Kurek of the Oakville Beaver Aug 15, 2013 for the lovely article!
http://www.insidehalton.com/mobile/news/article/4032689/
*   *   *   *   *   *
Thank you to everyone who turned out to help in the celebration of Aesop's Secret's Canadian Debut, May 19, 2013 at Different Drummer Books, Burlington, ON, Canada.
Before…50 books on display…